Fire sprinkler pipe and related fittings are generally made of carbon steel or ductile iron material and used to carry water or other liquid to connect firefighting equipment. It is also called fire protection pipe and fittings. According to the corresponding rules and standards, the fire pipeline need to be red painted, (or with red anti corrosion epoxy coating), the point is to separately with other pipeline system. Since the fire sprinkler pipe usually installed in a static position, it requires a high level and restrict quality control.
In a word, fire sprinkler pipe and fittings have to possess good pressure resistance, corrosion resistance and high temperature resistance.
Fire pipe technical parameters
Coatings: Adjustable heavy epoxy coating system
General surface color: Red
Coating thickness: 250 um to 550 um.
Size range: DN15 to DN1200
Working temperature: -30℃ to 80℃ (Up top 760)
General working pressure: 0.1 Mpa to 0.25 Mpa
Connection types: Threaded, Grooved, Flanged
Applications: Water, gas, firefighting bubble transmission and supply
Connection types for different DN fire pipes
Threaded and coupling connection: Below DN100
Grooved and clamp connection: DN50 to DN300
Flange connect: Above DN50
Welded: Above DN100
In case fire pipe installed sub ground, welding is the strongest option, which could use double metal weld and damage free, in this way to prevent the problems that caused by epoxy coating damages or the pipeline cracks from geological subsidence.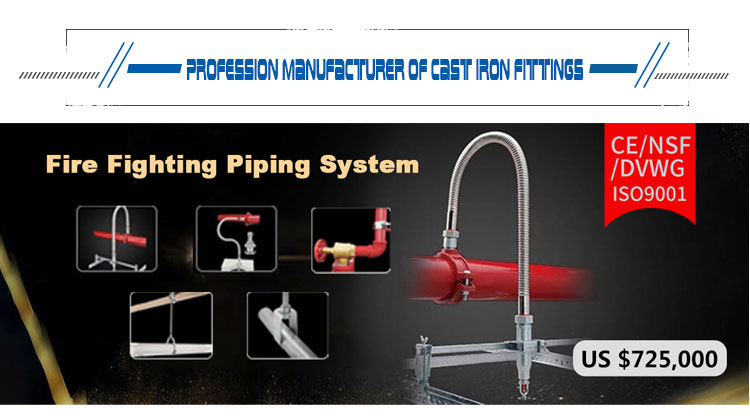 Features of epoxy coated fire pipe
Fire pipe that with internal and external epoxy coating, is using the modified heavy epoxy powder, which has good chemical corrosive resistance. In this way to solve the problems like surface rusty, corrosive, internal scaling and etc, and to prevent from blocking, prominently increasing the durability of the fire sprinkler pipe.
On the other hand, flame proof material has been added in the coatings, to make fire sprinkler pipe heat resistance better than other types of pipe. So even the working temperature is increasing rapidly it will not affect the performance of the fire pipe.
Therefore, fire sprinkler pipe that with internal and external epoxy coating, that is much better than galvanized pipe on the durability and performances.
Determining the right connection for fire sprinkler pipes
As we know there are four connection types to connect fire pipe or fittings. Which are: grooved connection, flange connection, butt weld connection and threaded connection.
Why to use fire sprinkler pipe fittings
Only the connection pipe fittings that complied with the right standards should be used in the event of any pipe diameter change in the fire pipe systems.
---
Post time: Apr-26-2021